Research 2012 CR-Z Sports Hybrid
2012 Honda CR-Z Sports Hybrid
The stylish 2012 Honda CR-Z provides a great blend between a sports car and a hybrid. With top of the line features and impressive steering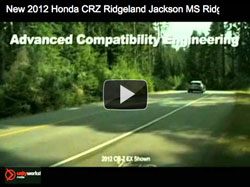 and handling, Jackson area car buyers will love to drive around in this impressive vehicle. Let's check out what's in store for shoppers at Patty Peck Honda!
Honda CR-Z Engine Features
The 2012 CR-Z is powered by a 16-valve, 1.5-liter i-VTEC® 4-cylinder engine with Integrated Motor Assist IMA®. This combination delivers both spirited performance rarely seen in the hybrid world with impressive fuel economy.
The battery pack, positioned low in CR-Z's body structure for optimal center of gravity, supplies juice to the Integrated Motor Assist system, giving the CR-Z abundant low-rpm torque for quick off-the-line acceleration. This is an attribute unique to electric motors and something the CR-Z would not benefit from with just the conventional engine.
Going Green With The Honda CR-Z
The 2012 Honda CR-Z provides impeccable environmental features that will provide not only top of the line efficiency but keep the environment safe at this Honda dealer serving Jackson MS. The CR-Z was designed for excellent fuel economy, but not at the expense of driving fun. Once you take it for a spin, you'll see that both goals were realized.
EPA numbers are important, but the way you drive also affects the fuel economy you achieve. The CR-Z features a guidance system that helps boost your efficiency and monitor your own driving habits to maximize your mpg. It's called Eco Assist™ and it includes a green ECON button that, when pressed, regulates certain vehicle functions to maximize efficiency. The system also features real-time feedback to help promote driver awareness of efficient driving habits on a daily and ongoing basis.
Safety Features
Safety is a big feature of any vehicle and the 2012 Honda CR-Z doesn't disappoint. To help keep you on course and away from danger, Vehicle Stability Assist™ (VSA®) helps sense oversteer or understeer, and then adjusts brake pressure at each wheel and/or reduces engine power to help restore driver control.
Standard 4-wheel anti-lock disc brakes (ABS), with Electronic Brake Distribution (EBD), help you maintain control during hard braking. Properly inflated tires are crucial for safe operation, so the Tire Pressure Monitoring System (TPMS) alerts the driver when a tire's pressure reaches a significantly low level.
The CR-Z has been engineered to help protect you and your passengers when a collision just cannot be avoided. The Advanced Compatibility Engineering™ (ACE™) body structure utilizes a network of connected structural elements to distribute crash energy more evenly throughout the front of the vehicle.

Standard front, front side and side curtain airbags help reduce the likelihood of injuries in a collision. Driver's and passenger's active head restraints help reduce the likelihood of whiplash injuries in a sufficient rear impact.
To learn more about the 2012 Honda CR-Z at this Honda dealer serving Jackson MS, stop by today or schedule your test drive now!