Mississippi Graduates,

You Could Qualify For Special Finance Rates
...and a $500 Honda College Graduate Bonus, good toward any new Honda Automobile(1)






OPPORTUNITY
Graduates, congratulation on your hard word! Post-college life has more perks than you might expect. No more midterms, no more finals, and no more worrying about your GPA. Patty Peck Honda can help you get into that car or SUV with flexible and competitive financing. If you're finishing college in the next four months, or have graduated in the past two years, you could qualfiy for the Honda Graduate Program. That means you can buy a Honda at our available special rate. See, the real world's not so bad after all.
Here is what will you need:
5% minimum down payment

No adverse credit history

Verifiable proof of employment or a firm commitment from an employer with a start date no more than 120 days from the date of the finance contract

Graduate with a master's, bachelor's or associate degree from a U.S. – accredited college or registered nursing school

Have graduated in the past two years or will graduate in the next four months, from the date of the finance contract.

Provide Patty Peck Honda with the credit and document requirements
Qualify for the Honda Graduate Program and one of Patty Peck Honda's Graduate Specials and let Patty Peck Honda help you take your life to the next level.


CHOICES
Deciding on the Honda vehicle you want may be the hardest part. The good news is the choice is all yours and Patty Peck Honda has Mississippi's largest selection of new Honda's for you to choose from. - Search Our Honda Inventory
What should I do, finance or lease my new Honda?
Often times leasing, instead of traditional financing, can give you more flexibility. You'll have the option of purchasing the car after
the lease term is up or turning it in for a new car. Leasing lets you get into a new or Certified Used car with as little initial cash spent as possible.
READ MORE: Honda Lease vs Financing Your Next Vehicle
BENEFITS
Choose from our flexible and competitive financing and lease packages on any New Honda or Certified Used Honda vehicle. You can defer your first-payment for 90 days, with 60 days of no interest*. This is the best way to start building your credit rating, making it easier to qualify for other consumer loans.
Patty Peck Honda Benefits:
Learn more about the Honda Graduate Program at Patty Peck Honda, Download the Brochure.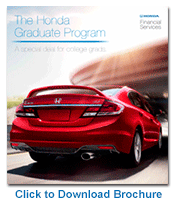 Mississippi College Graduates Specials
You can save more through the Honda College Graduate Program at Patty Peck Honda with reduced rates as low as 0.9% on some of Mississippi's most popular Hondas. Details on College Graduate Specials at Patty Peck Honda.
Patty Peck Honda offers finance choices customized for recent graduates. Make that next big step with exclusive purchase and lease plans featuring low rates and affordable lease terms when you purchase your new Honda or Honda Certified Used Car.
For more information about the Honda College Graduate Program call 888-902-1166 today or stop by we are conveniently located off I-55 exit 105B on Sunnybrook Rd in Ridgeland, Patty Peck Honda is the #1 Volume Honda dealer in Mississippi. We are open six days a week, also offering an on-site service center and parts department. Jackson area Honda shoppers and drivers count on Patty Peck Honda for all of their automotive needs and so can you.
*Available only on traditional financing.
(1)Honda Graduation Bonus:For well-qualified customers who meet Honda Graduate Program criteria, subject to approval by Honda Financial Services. $500 to be used as downpayment assistance or cap cost reduction assistance Financed through Honda Financial Services. Only One $500 offer per vehicle.