What does the Honda Warning Light Triangle with Exclamation Point Mean?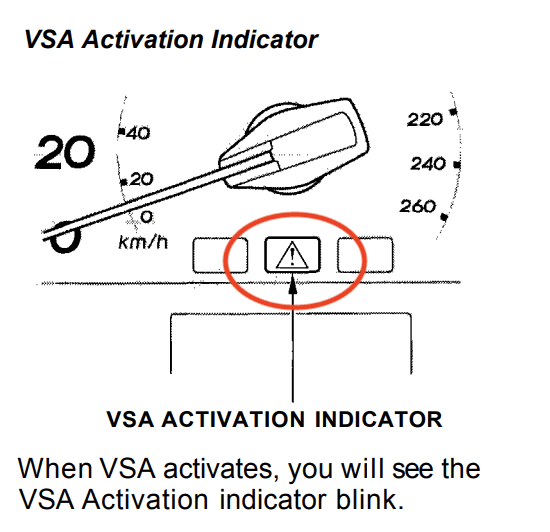 It's Friday, and you're ready to start your weekend off right. You're cruising down the highway with your favorite music blasting, when something on your dashboard catches your eye. A little triangle with an exclamation point has lit up on your dashboard. For many drivers this may be stressful, frightening, or just plain annoying. Not to worry, though. Our Ridgeland Honda service team is here to help you to decipher the most common Honda warning lights, including what the triangle with an exclamation point in the middle actually means.
When that warning light triangle with an exclamation point pops up, there's a simple explanation. It means that there is something wrong with your Honda vehicle's Vehicle Stability Assist (VSA®) system.
This system helps to stabilize the vehicle during cornering if the car turns more or less than desired. It also assists you in maintaining traction while accelerating on loose or slippery road surfaces. It does this by regulating the engine's output, and by selectively applying braking.
Visit Our Honda Service Center In Ridgeland
If your Vehicle Stability Assist warning light comes on while you're driving, pull to the side of the road, somewhere it's safe, and turn off your engine. Reset the system by restarting the engine, and watch the VSA® system indicator. If the indicator remains on, or comes back on while driving, bring your vehicle in to our Honda service center in Ridgeland, MS. We'll be more than happy to take a look and get you back on the road as soon as possible!
If you have any questions or would like to schedule a service appointment, don't hesitate to contact us at Patty Peck Honda today.
More from Patty Peck Honda
In the market for a used Honda car, SUV, or truck? Are there any specific features or characteristics that you're searching for when shopping for it? What about the highly-coveted Apple CarPlay™ functionality? That's right – Apple CarPlay™ – the technology that not only provides you with hands-free access to the digital world but will…

The 2020 Honda Accord is a strong contender for any Jackson-area driver looking for a sophisticated and well-equipped sedan. Powerful, comfortable, and loaded with all of the high tech features to keep you connected, entertained, and safe, the Accord is an ideal choice to upgrade your Brandon driving experience. Learn about the Accord interior features…

With the 2020 Honda Civic, Jackson drivers can choose between sedan, coupe, and hatchback body styles. Once you decide which best suits your needs, you'll have the opportunity to pick the Civic color that best reflects your personality. As you'll see below, the exterior Civic color options vary according to the body type you choose:…