What Does the Honda Warning Light Triangle with Exclamation Point Mean?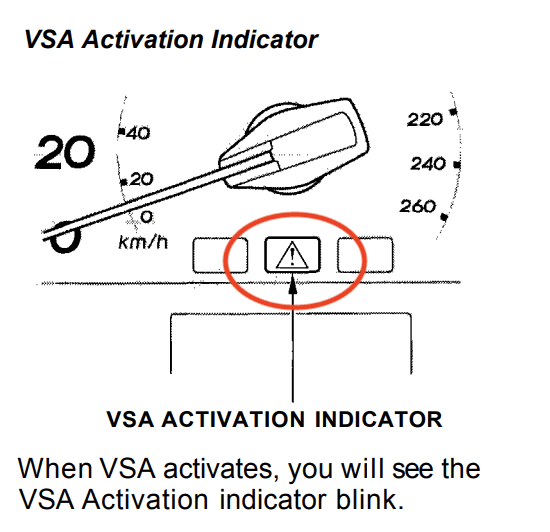 It's Friday, and you're ready to start your weekend off right. You're cruising down the highway with your favorite music blasting when something on your dashboard catches your eye. A little triangle with an exclamation point has lit up on your dashboard. For many drivers, this may be stressful, frightening, or just plain annoying. Not to worry, though. Our Ridgeland Honda service team is here to help you to decipher the most common Honda warning lights, including what the yellow triangle with exclamation point actually means.
When that warning light triangle with an exclamation point pops up, there's a simple explanation. It means that there is something wrong with your Honda vehicle's Vehicle Stability Assist (VSA®) system.
This system helps to stabilize the vehicle during cornering if the car turns more or less than desired. It also assists you in maintaining traction while accelerating on loose or slippery road surfaces in the Madison area. It does this by regulating the engine's output, and by selectively applying braking.
---
---
What Should I Do If the Triangle with Exclamation Point Comes On in My Car?
If the triangle with exclamation point Honda warning light (aka, VSA® light) comes on while you're driving, pull to the side of the road, somewhere safe, and turn off your engine. Reset the system by restarting the engine, and watch the VSA® system indicator. If the VSA® light and exclamation point remains on, or comes back on while driving, bring your vehicle in to our Honda service center in Ridgeland, MS. We'll be more than happy to take a look and get you back on the road as soon as possible! We're just a short drive from Madison and Brandon, MS.
Visit Our Honda Service Center In Ridgeland
Whether it's the yellow triangle with an exclamation point or one of the other Honda warning lights, you can count on the experts in the Patty Peck Honda Service Center to help. We employ the most advanced diagnostic equipment and our skilled technicians will quickly pinpoint exactly what the issue is and take care of it for you. Make sure to check out our current service specials and coupons to take advantage of savings and discounts on a wide range of maintenance and repair services.
If you have any questions or would like to schedule a service appointment, don't hesitate to contact the Service Center at Patty Peck Honda today. We proudly serve Honda owners from Ridgeland, Madison, Brandon, and beyond.
More from Patty Peck Honda
See What's in the 2023 Honda Pilot Trailsport Honda is proud to boast that the 2023 Honda Pilot Trailsport is the most rugged SUV ever made. With standard all-terrain tires, steel skid plates, off-road tuned suspension, and expanded all-wheel drive system capabilities, Honda engineers have programmed the vehicle's DNA to deliver top notch performance and…

50 Years Worth of Civic Celebration July 2022 was a special time for Honda. It marked the 50th year anniversary of the Honda Civic. The Honda Civic is the longest standing vehicle nameplate in the history of Honda. It's also the best-selling Honda automobile ever. Check out these fun facts about the model and relish…

Wondering which Honda models are hybrid? Here at Patty Peck Honda in Ridgeland, our three favorite models include but aren't limited to the Honda CR-V, the Honda Accord, and the Honda Insight. Each has something unique to offer Honda shoppers. Read on to find out more! New Honda Hybrid Inventory 2022 Honda CR-V Hybrid With…